Stretching around 8 km through stunning nature, and spotted with scenic waterfalls and rocky shallows, Kakizore Gorge is a great place for a day's walk.
Kakizore Gorge is considered to be particularly beautiful, even by the already very high standards of the Kiso region, with clear waters and stunning rock formations that charm travellers throughout all four seasons.
A popular itinerary begins at Junikane Station and ends 4.5km into the valley at Ushigataki Falls. However, continuing further along the forest road will lead inquisitive visitors to yet more spectacular waterfalls that are well worth the extra walk.
Kakizore Ravine
Over countless millennia the wide, flowing waters of the Kiso River have eroded the granite columns of the Kakizore Ravine into natural formations more stunning than even the most beautiful sculpture. It is also sometimes called "Nakagawa Genkyo", as well as "The Southern Nezame" due to its similarity to the larger Nezame no Toko ravine in Agematsu to the north.
Yatsurugi Shrine
The giant cedar trees in the grounds of Yatsurugi Shrine are around 570 years old, and belong to a rare breed of cedar known as kumanosugi. The four cedar trees here have slowly become intertwined over the years, and are recognized collectively as one of Nagiso's important natural monuments.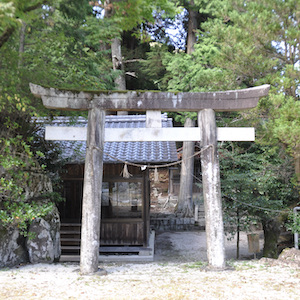 Kakizore Aqueduct (Nationally Designated Important Cultural Property)
Along with Momosuke Bridge and the Yomikaki power station, the Kakizore Aqueduct has been officially recognized as an important cultural property from Japan's period of modernization in the late 19th and early 20th centuries. It is one of the largest pre-war aqueducts remaining in Japan.
Kikori no Ie
Kikori no Ie is a private home built in 1864, during the late Edo period, which has since been demolished and restored to its original state. It is available for rental as a (self-catered) accommodation, allowing those staying to sample a small slice of Edo period living.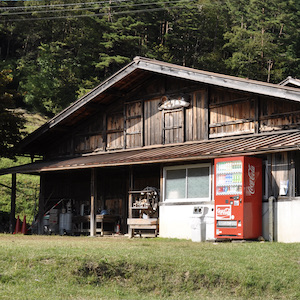 Kakizore Onsen (Keikoku no Yado Ichikawa)
Located near the entrance to Kakizore Gorge itself, Kakizore Onsen offers hot spring bathing, meals, and overnight accommodation. Its spring water is rich in both minerals, and (perfectly harmless, of course) radon.
Ushigataki Falls
A spectacular waterfall of smooth, carved granite. Well worth the walk here, and best viewed from the Ushigataki Falls observation deck a short walk along the gorge past the Lovers' Trail suspension bridge.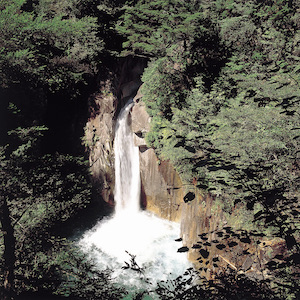 Kirigataki Falls
A 40-minute walk along the forest road past Ushigataki Falls, Kirigataki Falls similarly offers spectacular views from the nearby observation deck.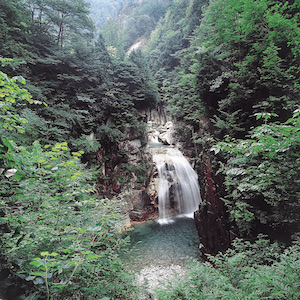 Ibotori Kannon Temple (Junikane, Nakayama Kannon)
IIbotori Kannon Temple is said to harbor a rather special power: the power to remove a person's warts. Anyone unlucky enough to be plagued by warts need only rub them against the special wooden shoes kept within this small temple to completely be rid of them (visitors without warts are also encouraged to stop by for a visit).
An annual festival takes place at the temple every year on the 14th of August, when a huge string of juzu prayer beads are retrieved from the temple and paraded around the Junikane neighbourhood, where local children pass around the prayer beads in a circle between them while chanting a total of one million Buddhist prayers (this festival has been designated as one of Nagiso's intangible cultural properties).