Molded into unique and beautiful forms by raging waters over countless millennia, the waterfalls of Nagiso's Tadachi neighborhood are truly a sight to behold, and certainly worth a visit.
And while you're in the area, why not explore the cultural side of Tadachi with a visit to the serene Zentoin Temple, or a traditional Japanese washi paper-making workshop?
Tadachi-no-taki (Prefectural Scenic Spot)
The countless waterfalls of Tadachi (collectively referred to as the Tadachi Falls, or Tadachi-no-Taki) have long been noted for their mystical and inspiring presence – some were even historically viewed as places of sacred power and importance.A walk along the forest road from Tsubukuri parking lot to Tenga Falls takes approximately 90 minutes, and is not a particularly challenging walk, making this a perfect route not only for seasoned hikers, but anyone looking to enjoy the great outdoors.
Tenga Falls
Standing at 40 meters tall, Tenga Falls is perhaps the most impressive of all the Tadachi Falls. The full force of the Otaki River raging down its granite surface is a true testament to the power of nature.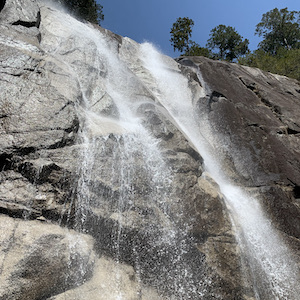 Kirigataki Falls
Standing at approximately 30 meters tall, Kirigataki Falls' craggy surface and less steep surface leads the water to dance and leap about as it descends. While Tenga Falls shows the sheer power of nature, Kirigataki Falls could be said to speak more to its playful, boisterous side.
Senshin Falls
With special beauty all its own, Senshin Falls speaks to the more gentle, serene side of nature. After playfully bouncing down its shelf-like surface, the clear waters of Senshin Falls gather in a sparkling blue-green pool at its base, before flowing into the main body of the Otaki River.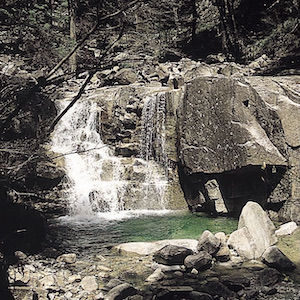 Rasen Falls
After cascading over its ridge, the waters of Rasen Falls (which can be translated into English as Spiral Falls) bounces across its surface multiple times – twisting and turning wildly as it makes its way down the rock face and into the basin below.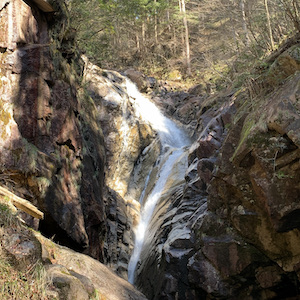 Uru Falls
Like Rasen Falls, the water that cascades down Uru Falls bounces and twists along its granite surface before continuing its long journey to the Kiso River.Uru Falls is the only one of the Tadachi Falls located before the main hiking course. It can be reached by going past Tadachinotaki Auto Camping Ground and turning right onto a narrow road, instead of continuing up the main road to Tsubukuri parking lot and the rest of the Tadachi Falls.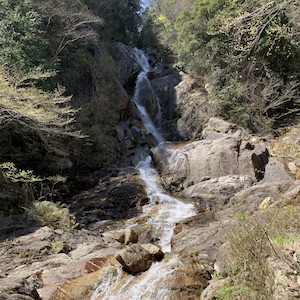 Tadachinotaki Auto Camping Ground
Visitors to the Tadachinotaki Auto Camping Ground can enjoy a day filled with exploration, followed by a relaxing night's sleep surrounded by the serene sounds of nature. Facilities include cabins, bungalows, and spaces for car camping. The nearby river is also perfect for swimming, fishing, and other similar activities.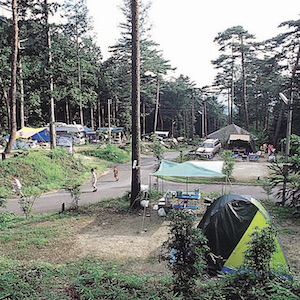 Washi no Ie (Traditional Washi Paper Production Site)
Tadachi has long been known for its traditional Japanese washi paper, with farmers historically engaging in washi production as a secondary occupation during the cold winter months. In more recent years the techniques of washi production have been preserved by the local historical society. Visitors can also try their hand at making their own washi paper here, though this requires a reservation.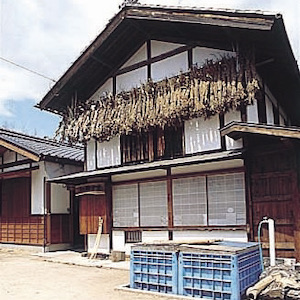 Zentoin Temple
Zentoin Temple has a long history of connection to academics and the arts. Not only are its grounds littered with poetry-carved stone monuments, but one of its more recent head priests, Shuren Fujita, was a close student of the famous early 20th century poet and Buddhist scholar Kanoko Okamoto. As a result of that relationship, the noted writer Katsuichirō Kamei and cartoonist-illustrator Ippei Okamoto came to stay at the temple, where they were received with warmth, shelter, and plenty of nigorizake – a traditionally-brewed form of sake.In more recent years other important figures from the religious, academic, and artistic worlds have made visits to Zentoin Temple, including noted avant-garde artist Taro Okamoto and the famous Buddhist writer Jakucho Setouchi.