Regarded throughout much of history as sacred ground, the foothills around Mt. Nagiso are full of not just natural beauty, but plenty of interesting and exciting things to do.
Why not take a stroll through the peaceful, healing forests of the Araragi Nature Discovery Park, and enjoy the unique activity of shinrinyoku ("forest bathing") – a practice of immersing oneself in nature, with many benefits for both mind and body.
Or why not visit the Gakutsuki River, and play or fish in its clear, refreshing waters.
Or else climb Mt. Nagiso itself to see the panoramic views of Araragi and Nagiso below, as well as the Southern and Central Alps in the distance (including the particularly scenic Mt. Ontake, Mt. Norikura, Mt. Hotaka, and Mt. Haku).
Regardless of what you choose to do in the Nagiso foothills, there's plenty of accommodation to be found, including plenty of hot spring hotels, as well as the Araragi Camping Village (with choices of cabins, bungalows, or car camping).
Mt. Nagiso
WIth an elevation of 1,676 meters, Mt. Nagiso can be a somewhat challenging climb. However, intrepid hikers are rewarded with panoramic views of the Southern and Central alps, as well as the beautiful Mt. Ena and Mt. Ontake.One of the of three Kiso Mountains, Mt. Nagiso was historically used as a mountain retreat for followers of the ascetic religious practices Shugendō. Here they would engage in religious training and make offerings to the numerous deities that are said to reside here.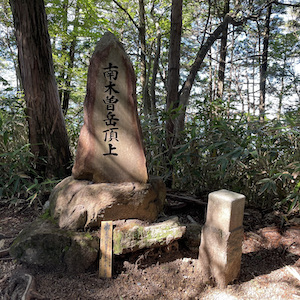 Araragibirin (Araragi Nature Discovery Park)
The Araragi Nature Discovery Park is home to a treasure trove of natural species, including the Kiso-goboku – the five highly-prized varieties of wood from the Kiso Valley (hinoki (Japanese cypress), sawara, asunaro, koya-maki, and nezuko), with some trees as old as 300 years.One can also take part in shinrinyoku – "forest bathing" or "forest therapy" – where instead of simply hiking from point A to point B one takes time to immerse oneself in the sights, sounds, scents, and textures of the forest. Research points to very real benefits of forest bathing, both physical and mental – including, but not limited to, a reduction in stress and lower blood pressure levels.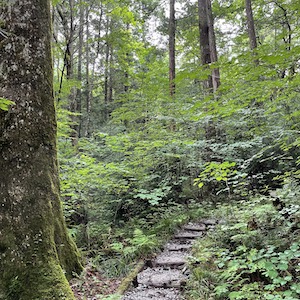 Nagiso Onsen (Hot Spring) Area
An onsen hotel that provides alkaline hot springs, as well as meals and accommodation. Conveniently located in the Araragi neighborhood alongside Japan National Route 256.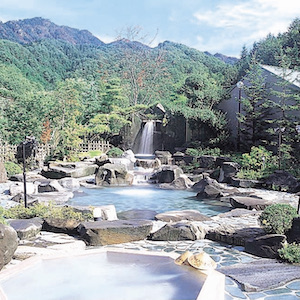 Araragi Camping Village
Located in forests 800-900 meters above sea level, Araragi Camping Village offers a variety of camping options, including cabins, bungalows, and car camping. Visitors often enjoy paddling or fishing in the the shallows of the beautiful Gakutsuki River. [Closed for the winter December through March]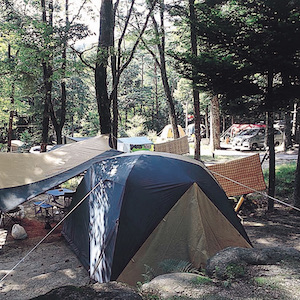 Mauka Lani Goat Farm
A goat farm located in the foothills of Nagiso that somehow manages to evoke the warmth and calm of a summer's day in Hawaii.The goats at Mauka Lani are raised in an extremely low-stress, 100% free-range environment. Come for the delicious goat cheese, stay for the cute animals and the beautiful natural scenery. [Closed for the winter December through March]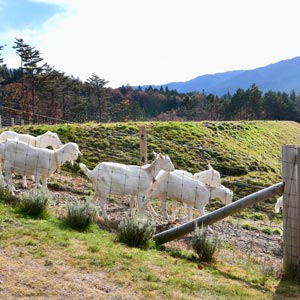 Kijishi no Ie (One of Nagiso's Tangible Cultural Properties)
A Kijishi or kijiya was a kind of skilled woodworker who often worked with a lathe. This Kijishi's cabin was built in the late Meiji period, then later dismantled and reconstructed in its current location. Step inside and be transported back in time to a traditional kijishi's workshop, with stacks of woodwork products at various states of completion, and wooden shavings littered around the mushiro woven straw mat flooring.
Hinoki Kasa no Ie
A hinoki kasa is a conical hat woven from thin strips of hinoki cypress wood that was traditionally made in the region. Hinoki Kasa no Ie is operated by the Araragi Hinoki Kasa Cooperative, with a variety of goods on display, and available to purchase.These goods include many different kinds of hinoki kasa, as well as other hinoki products created using similar impressive weaving skills, such as unique sun visors and shoe insoles.