Explore the Fukibata Highlands. Feel the cool, relaxing breeze on your face as you slip into the healing waters of an outdoor onsen hot spring. Wander the old roads and surround yourself with the beauty of nature. Step into a traditional woodworker's shop to see countless generations of skill and care on display.
And before you head home, why not drop by another onsen? There's plenty of them up here – each has its own unique charms.
Kiso Pass (Odaira-toge Pass) – Kiso-mi Chaya (One of the 100 Shinshu Sunset Point Views)
The observation deck nearby Kiso-mi Chaya at Odaira-toge Pass affords such a stunning view that it was selected as one of the top 100 most beautiful viewing spots in Nagano prefecture (the 100 Shinshu Sunset Point Views). Kiso Pass is worth visiting at any time of day, and any time of year, but is particularly beautiful on fall days, when the sunset transforms the fall leaves below into a sea of brown, red, and gold that seem to transport one into another world entirely.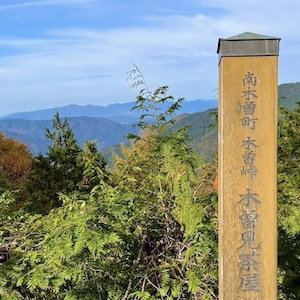 Fukibata Highlands Onsen Area (Takimi Onsen Inn, Hotel Fukinomori)
The Fukibata Highlands Onsen Area offers several hotels with relaxing alkaline hot springs, delicious meal, and comfortable rooms for a good night's sleep.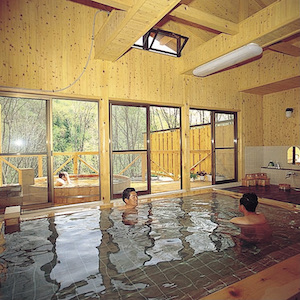 The Fukibata Highlands Peach Blossoms
If you're lucky enough to visit the 1,000 meter-high Fukibata Highlands Onsen Area in spring, you'll be treated to beautiful plum blossoms in striking shades of white, red, and pink. The best time to see the peach blossoms is generally at the beginning of April, around the Golden Week holidays.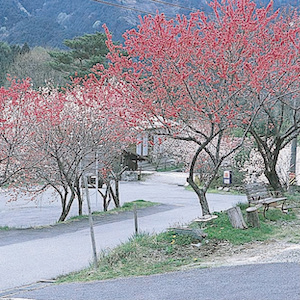 Odaira-toge Kenmin-no-mori Campground (Mt. Natsuyake)
The Kenmin-no-mori campground is located on the border between Nagiso and Ida City, and sits atop an extensive 248-hectare highland with elevations of between 1,300 and 1,500 meters above sea level. Here one can wander scenic paths among natural woodland containing hinoki (Japanese cypress), Sawara (a separate species of Japanese cypress), Buna (Japanese beech), and Karamatsu (Japanese larch). The summit of Mt. Natsuyake also affords panoramic views of mountains, including the particularly scenic Mt. Nagiso, Mt. Ontake, and Mt. Norikura.
Kijishi no Sato
During the Meiji period several kijishi (a kind of skilled woodworker who often worked with a lathe) gathered together to found a village in the Urushibatake neighborhood of modern-day Nagiso. The formidable skills of these kijishi have been passed down through the generations, and today the area is known as Kijishi no Sato (Kijishi Village). Kijishi no Sato is home to a great variety of wooden crafts, and it's said that the delightful scents of wood drift through the air at all times of day.