The Nakasendo was an important historical route connecting Nihonbashi in Edo (present-day Tokyo) and Kyoto. It passed through 35 post towns over a total distance of around 534 km.The Nakasendo trail between Tsumago-juku and Magome pass, along with the connected Yogawa Road, have been nationally recognized as important historic landmarks.
The flagstones of the Nakasendo have been shaped by the footsteps of countless generations of travellers. Even now a relaxed stroll along its length allows one to travel back in time to experience the sights and sounds of the Edo period.
The information provided below assumes a route from Nagiso railway station to Tsumago-juku, and then on to Magome pass, and Magome-juku beyond. Please read from the bottom up if approaching this route from Magome.
Please refer to this video if you are walking along Nakasendo from Magome to Tsumago!
➡   YouTube
The information about Luggage Transport Service between Magome and Tsumago
➡ Tsumago Official Website
Kabuto Kannon Temple (One of Nagiso's Historic Sites)
It is said that this temple owes its origin to Lord Yoshinaka Kiso (1154-1184). Before marching to war along the Hokurikudo route, Lord Kiso was said to have prayed for victory at this spot, and removed the decorative image of the goddess Kannon from the top of his helmet (kabuto means 'helmet' in Japanese) to enshrine it in the temple here.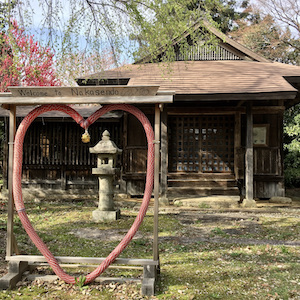 The Uwakubo Milestone (One of Nagiso's Historic Sites)
In the Edo period milestones were placed every ri (approximately 3.9km/2.5 miles) along the Nakasendo. Marking 78 ri (approximately 306 km/190 miles) from Edo, the Uwakubo Milestone is the only milestone in Nagiso remaining in its original form. The weeping plum trees along the route are of particular note for their beauty.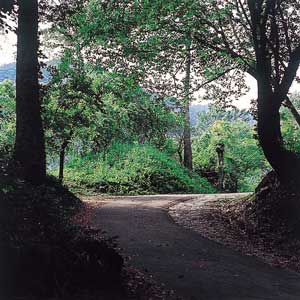 The Ryokan Haiku Monument
This stone monument commemorates the late-Edo period Buddhist monk and poet Ryokan Taigu, and is carved with the traditional waka poem he composed when passing through this area: "In the middle of this lonely sunset field / a young male deer is crying for his young wife."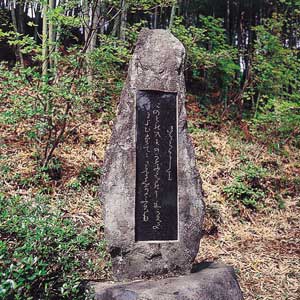 Tsumago Castle Ruins (Prefectural Historic Site)
Ever since the Sengoku (Warring States) period, Tsumago was a site of extreme strategic importance. Tsumago Castle was vital for defending the southern Kiso region, and consisted of both main castle and a secondary castle, which were protected by walls and a dry moat. The remains of the main castle afford panoramic views of both Tsumago-juku and Midono-juku beyond.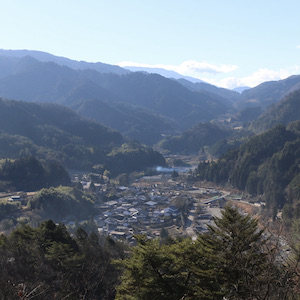 Stone Signpost (One of Nagiso's Historic Sites)
Tsumago grew prosperous over the years in part due to its position at the crossroads of the Nakasendo and the Iidakaido highway. This 3-meter-high signpost was erected by merchants from Tsumago, Iida, and Omi province in 1881 to celebrate the opening of a national highway.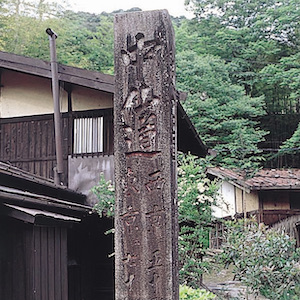 The Fujihara Family Residence (Prefectural Treasure, Open to the Public)
From its architectural style and details of construction, this historical residence has been identified as dating to the mid-17th century. Restoration work was carried out on the building in 1988.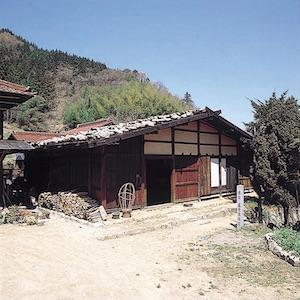 Kurashina Soreisha (Shrine for the soul of Kurashina)
This small shrine was built to house the soul of Kurashina Shichirouzae-mon, who was murdered by brigands at this spot, along with 30 of his attendants in 1586. Kurashina Shichirouzae-mon was chief vassal of Ogasawara Sadayoshi, the lord of Matsumoto Castle. A festival is held here annually on the 3rd of April.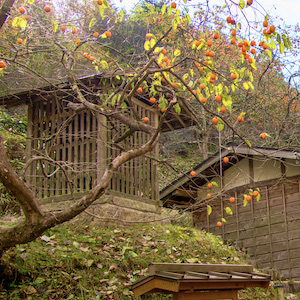 Ogake Erosion Control Dam (One of Nagiso's Historic Sites)
The Ogake Erosion Control Dam was the first stonework dam built in Nagano prefecture, and the Emperor Meiji personally inspected construction on the dam itself. It is now largely covered by soil, and only partly visible.
O-taki and Me-taki Waterfalls (One of Nagiso's Scenic Spots)
The names of these two waterfalls translate into English as 'the male waterfall' (O-taki, or 男滝) and 'the female waterfall' (Me-take, or 女滝). This scenic spot so impressed popular writer Eiji Yoshikawa (1892-1962) that he made it the background for romance between the legendary swordsman Musashi in his famous book Miyamoto Musashi.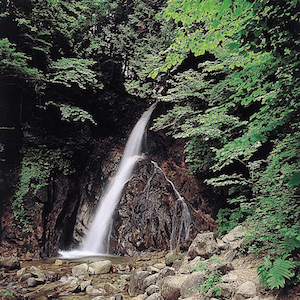 Site of the Ichikokutochi-Shirakiaratame Checkpoint
Originally located in Shirakiaratame, this checkpoint was relocated to ichikokutochi, where it remained until 1869, overseeing the removal of the five highly-prized varieties of wood from the Kiso Valley – hinoki (Japanese cypress), sawara, asunaro, koya-maki, and nezuko. These valuable trees were strictly controlled, and unauthorized felling led to extremely harsh punishment. A tea house was also present on this site, to serve as a resting point between inns.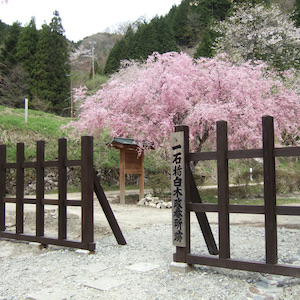 Koyasu Kannon Temple, and its weeping cherry trees (One of Nagiso's Natural Monuments)
It is commonly said that women living in this area are lucky enough to avoid complications during childbirth due to the protection of Koyasu Kannon. To this day, many locals still come here to pray for safe deliveries.
Magome Pass
An elevation of 790m affords views from Tsumago-juku all the way to Midono-juku. There is a monument at the highest point of the pass carved with a haiku by the poet Masaoka Shiki.